Let me tell you what fics I have loved! And some Figureskating!art I made.
New OTPs I have acquired in the last 3 months:
( American Idol, Star Trek, Supernatural, Figure skating RPF )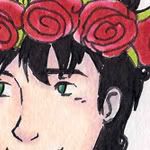 Actually the last one is just me loving Johnny's crown of roses, no relevance to the fic what so ever...
EDIT: Sorry, here is the art, I forgot the entry was locked:
EDIT2: I moved the art to my RPFanart journal so it will be all in one place.
Evan and Johnny - Slash, G